Not finding what you are looking for? Google it below.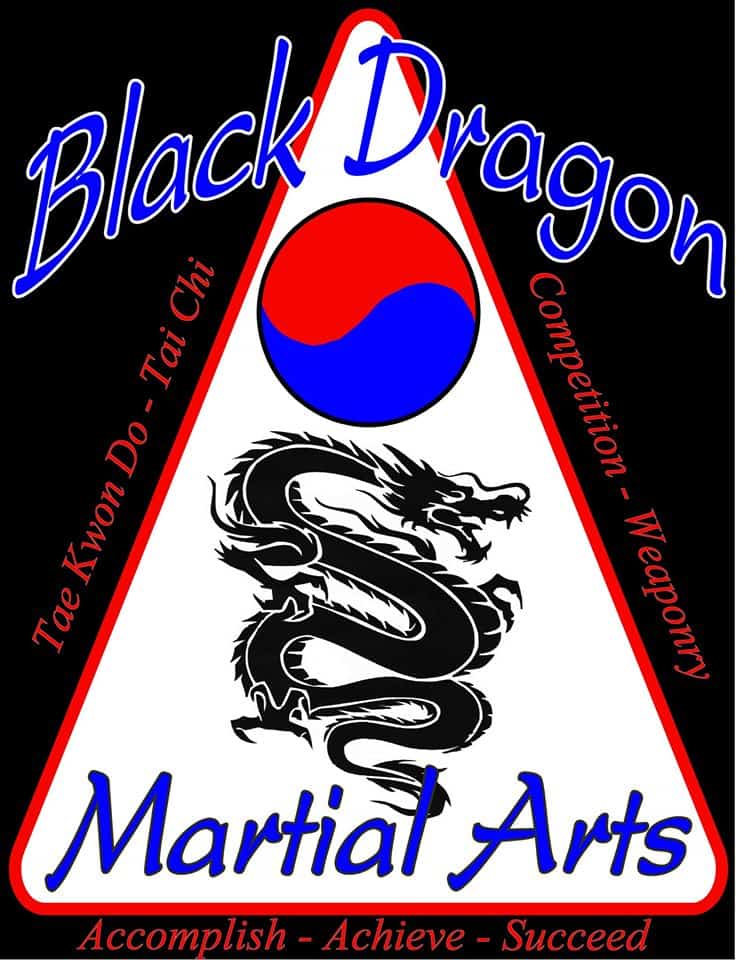 Black Dragon Martial Arts Club Inc
Promote Your Page Too
Black Dragon Martial Arts Club

Organized in 2003

Dedicated in Respect and Memory of Instructor 1st Dan Leonard Anderson and his dedication to his students



Visitors since July 2006
View Guestbook
Sign Guestbook
Visit My Message Board
Privacy Disclaimer
---
Dedicated to Training Youth and Adults in the Martial Arts
| | |
| --- | --- |
| | Bundle your classes and save $$ |
Don't meddle in the affairs of dragons, for you are crunchy & good with ketchup.
Our charity event is held at the Chi Mukwa (Big Bear)Fitness Center, Sault Ste Marie, Michigan

Stay tuned and don't miss out on this great event!

International Ice Breaker Open Martial Art Tournament

Saturday - May 15, 2021 Individual Events

Black Dragon Sponsored "International Icebreaker Challenge" Open Martial Art Tournament participants will leave the event with great memories, new friends and trophies. Feedback offered by families who attended our prior tournaments indicated it celebrated the athletes and was very family friendly. Sponsors play a big part in making these events a huge success.

Starting a tradition: The sponsors and promoters of "The International Icebreaker" MA Tournament will provide a quality experience to martial artist of all ages, styles and schools. Our Vision is to share the indomitable spirit of martial artist with everyone in the community.

Part of the proceeds from the tournament will be put toward the establishment of a college scholarship program to encourage academic achievement and motivate individuals to become serious students of traditional martial arts. The scholarships would be open to students who plan to enroll full-time as an undergraduate at an accredited U.S. four-year college or university and meet the minimum eligibility requirements.

We are looking forward to offering another great tournament in 2020! Click here to go to our tournament page for more information!

Be a Tournament Sponsor- Great advertising opportunity too good to pass up!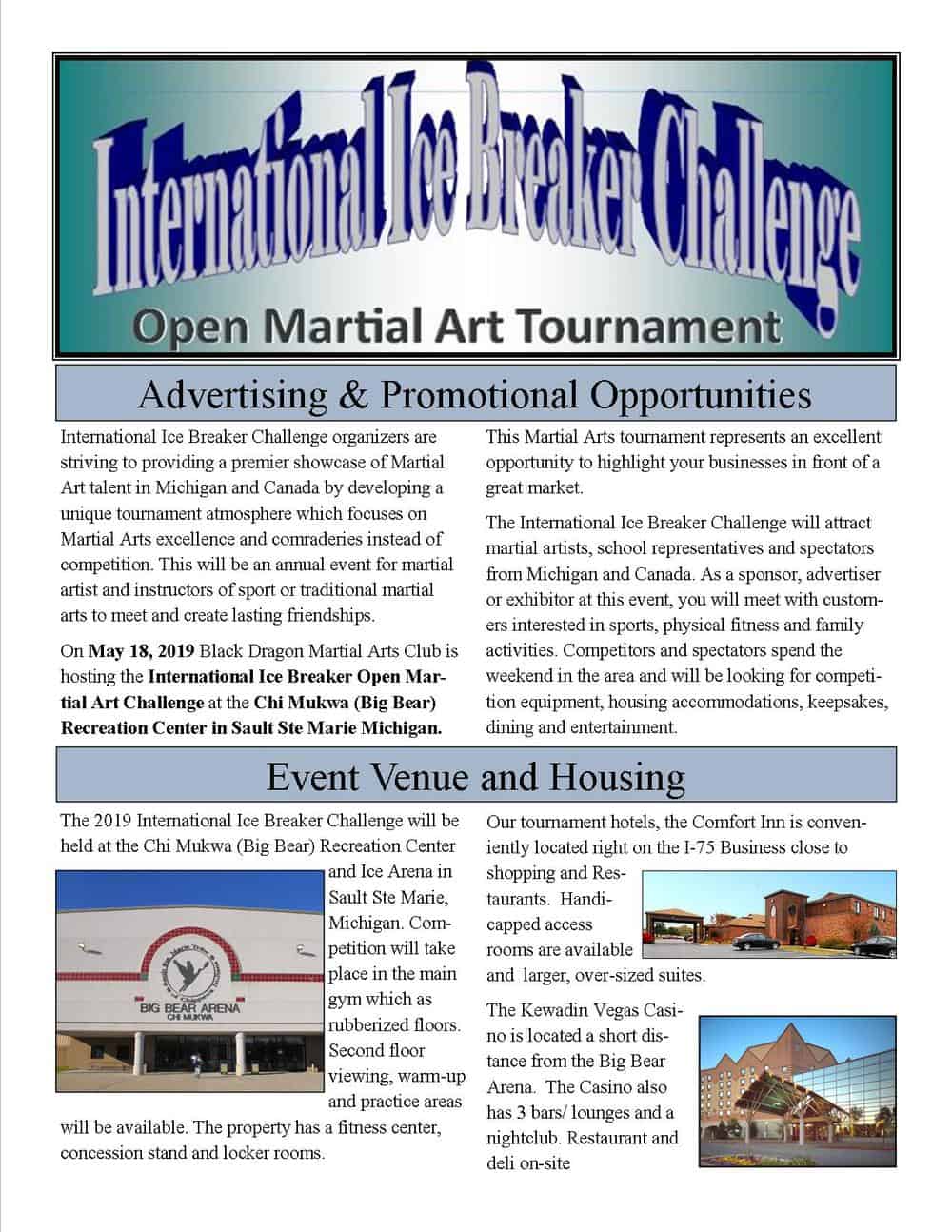 Click on the graphic to the left to review our printable brochure. You won't want to miss out the advertising and promotional opportunities our tournament has to offer our Sponsors!
About Our Martial Art Training
Improve your self-confidence, self-discipline, and physical conditioning as you train in Tae Kwon Do, the art of hand and foot. Each class features strengthening and stretching exercises, basic drills, forms (hyung), and practical, situational self-defense techniques.

In a safe and fun environment, we'll take you all the way to Black Belt and beyond! As a beginning student, you'll learn the basic martial art stances, blocks, kicks, and punches. During your first few weeks of training, you'll also learn basic Korean terminology and the movements of the first form in preparation for the Yellow Belt examination.

As your skill level increases over time, there will be additional opportunities for testing and further advancement. Intermediate students will be taught sparring drills and more advanced forms, while advanced practitioners are introduced to martial art weapons such as the staff, Korean sword, and Nunchuka.

Training is both "martial" and "art" — it is a journey that can bring a sense of balance into your life. During your training, you'll learn valuable self-protection skills and discover a new vehicle for artistic self-expression. And along the way, you'll unlock the potential that lies within you.
Why You Will LOVE Our Classes
When you train with us, you'll discover a safe, friendly learning atmosphere with other people just like you. Our classes relieve stress like a mini-vacation: when you're in class, your troubles and worries seem a million miles away. After all the sweat, you'll leave class feeling more energetic and ready to conquer the world!

Our challenging and rewarding classes will build your confidence and improve your fitness at the same time! The most important skills you will learn will be how to avoid confrontations, but should you ever have to protect yourself, we can make the difference. Everything we teach is reality based, and what we teach you could save your life.

The dojo is a great place to have fun, and the friends you make in the dojo can last a lifetime. To the serious practitioner, martial art training becomes a way of life, and over the years, your training partners can become a kind of extended family.
Karate Kids: Children and Martial Arts
Sports participation, regardless of the sport, is one way children can learn valuable lessons with life-long benefits. Karate, as a sport, teaches self-discipline, builds self-esteem and a level of commitment, which may otherwise not be there. Karate, more than any other sport, is a life-long process. When kids click with this sport, it will follow them into adulthood. It can become a way of life, as these kids continually challenge themselves. The confidence instilled in them by their training. The values of good sportsmanship, and of trying your best. We realize you can get these from other activities, but those are good life skills, not just martial arts skills.

Do the research. Visit the dojo, observe how the instructors interact with the students. Ask questions. See if the school has a trial period. How competitive is the school? What is the attitude/atmosphere of the school? Also, there should be more to Martial Arts training that the belt. To paraphrase from Karate Kid, belts are to hold up pants.




Benefits of Martial Art Training for Adults
Whether you're new or seasoned the martial arts is the perfect activity. You'll relieve stress, gain confidence, improve your physical conditioning, and learn how to defend yourself and your family. Here's why it works:

Stress Relief: You probably have stress in your life. You also probably already know that physical exercise can reduce your stress. What you probably don't know is that physical activity only reduces one part of stress – its physical effects. Martial arts go a step further and work to decrease not only your physical stress, but also your emotional stress. Since most exercise activities allow you to zone out and not concentrate on what you are doing, you're not allowing your mind to de-stress as much as it could. Activities that require you to concentrate on your movements and core strength give you full stress relief in one activity.

Confidence: What you probably don't have is the self-awareness created by training martial arts. In order to successfully train martial arts, you need to get and keep your mind and body in tune with one another. This helps you become very aware of your body and your abilities. This awareness also gives you added confidence to control and defend yourself. What's great is that you will be able to be calm and collected in any situation because you'll have the confidence to handle the situation without losing your temper.

Physical Conditioning: When you train martial arts, you use your entire body – it's impossible to just use one muscle set at a time. You don't have to plan workouts to alternate between upper and lower body conditioning. You will get the maximum out of each training session because the exercises are always changing. Even better, regular physical activity will increase your energy. It also reduces your chances of suffering from heart disease, diabetes and obesity so that you'll be around for a long, long time.

Self Defense: Finally, you won't be training for combat and fighting in martial arts, but you will have the ability to do so if you ever find yourself in a situation where you need to defend yourself. This self-defense isn't always physical, either. The focus, concentration, awareness and confidence you'll gain from training martial arts will give you the skills you need to handle most situations when you feel under pressure or mistreated. Best of all, you won't get bored with martial arts because the only way to be successful in martial arts is to constantly change your exercise. It's better than following an exercise video three times a week or jogging on the treadmill as you mindlessly watch television. Plus, you'll often have to use different muscle groups to master new moves, so you're mind is always working while you exercise. Martial arts can give you everything you need to be a great person. Why not give it a try today?!
.Website maintained by Black Dragon Martial Arts